Charleston Dorchester Mental Health Center organizes and supports a wide variety of efforts that support our community.  Here is an ever expanding list of our attempt to give back to our community.
Dorchester Clinic Food Pantry
The Food Pantry was born in 2010 when Marion Godwin, a Dorchester Clinic case manager, brought in canned goods to be used for CDMHC clients.  His vision was to provide case managers with easy to access food to help meet some of the basic needs of clients.  Since that time it has grown into a sustainable food pantry that is now receiving canned goods from case managers at the clinic and from organizations out in the community such as Bethany United Methodist Church.  Bethany United recently donated several grocery carts of unperishable foods.  We want to thank Marion for making this wonderful idea a reality!  
Santa's Helpers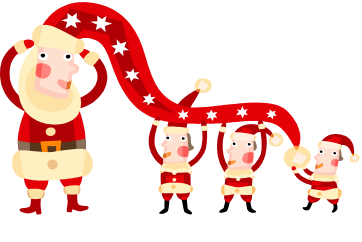 In 1992, several families served by the Charleston Dorchester Mental Health Center (CDMHC) asked for help in obtaining Christmas gifts for their children. A small group of staff asked friends and family members for help make Christmas a joyful time for these families. That goal was accomplished with gratitude from parents and a sense of joy for our group. The following year, more families came forward asking for help. Again, a small group of CDMHC staff met the need. Over the years, besides friends and family, Santa's Helpers began to look for support in the community through businesses, churches and schools. Santa's Helpers grew out of a continuing need and the belief that all children deserve to experience the joy of Christmas despite the challenges their families may face.
Santa's Helpers is still a volunteer "job". We are blessed now with the continuing support and kindness of several community partnerships and individuals who help us every year. Their support is greatly appreciated. As the needs of families grow, Santa's Helpers continues to work to expand our network of support.
Santa's Helpers has requests for almost 200 children this Christmas. We are working feverishly to see that Christmas morning is a time of joy for these children.
"Angels of Cheer"
In 2004, Linda Whitfield, a therapist/case manager at the Charleston Dorchester Mental Health Center (CDMHC), saw a need that wasn't being met.   Adult clients, facing financial hardships, weren't able to fully experience the joy and excitement of the Holiday Season.   Those living in residential facilities had as little as $7.50 a week, barely meeting basic needs.  Clients who had children used what resources they had to make sure Christmas morning was a joyous morning for their children.  Linda believes everyone, adults and children, should be able to experience the joy and excitement Christmas has to offer.
"Angels of Cheer" was born out of that belief.  Since 2004, Linda has developed a network of resources and supports that help her make the excitement of Christmas a reality for over 200 adult clients of the Mental Health Center each year.   Linda accepts referrals for CDMHC clients who don't have resources or other supports in the community.  She takes the client referrals, placed inside Christmas cards, and goes out into the community to individuals and businesses who have become friends of "Angels of Cheer".  Her "angels" donate based on their ability.   "Most of the requests are very basic," said Linda.  "One year, all one man asked for was a comb."
"Angels of Cheer" is grateful to those who have helped meet the needs of CDMHC clients over the years.   As needs grow and resources become more stretched, "Angels of Cheer" welcomes new "angels" to help bring the joy and excitement of Christmas to our clients in need.
Mental Health HEROES
Mental Health HEROES is a 501c3 non profit organization established on October 30, 2008 for the purpose of supporting the works of the Charleston Dorchester Mental Health Center in serving the citizens of Charleston and Dorchester Counties who have a serious mental illness.
The organization has an outstanding Board of Directors which includes a psychiatrist, a child psychologist and former mental health center director, a health care attorney, a bank trust department vice president, a CPA and a member of the Charleston Dorchester Board of Directors.
As all related to the organization are volunteers, 100% of the donations support the cause for which it was formed. Unlike the vast majority of 501c3s, Mental Health HEROES has NO administrative overhead. All contributions to the organization, no matter how small, are appreciated and are tax deductible.