Adult services at Charleston Dorchester Mental Health Center are broad in scope, and they are built around our belief in delivering evidence-based treatment and support.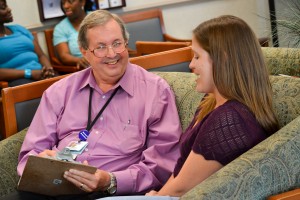 Medication Clinic
This service provides a full compliment of psychiatric nursing care to Dorchester and Charleston Clinic patients. Registered nurses provide injections, nursing services, and medication monitoring. We also have nurses as integrated members of regional teams that provide psychiatric nursing services, medication monitoring, home visits, and other supportive services.
Clinic-Based Programming
Staff and psychiatrists provide patients and families with regularly scheduled appointments in both clinics. Services include Psychiatric Medical Assessment, Nursing Services, Assessment, Case Management and Individual, Family or Group Therapy. Intensive Case Management, Crisis Intervention, Home-Based and/or Community-Based services may be necessary to supplement the specific treatment of any patient and family, as appropriate.
Dual Diagnosis Programming
This Dorchester Clinic program is designed to provide group counseling, individual counseling and intensive case management services to patients who are dually diagnosed with substance abuse issues and mental illness. The program's goals are to decrease hospitalizations and substance use.
Assertive Community Treatment (ACT-Like Services)
Charleston Clinic has two ACT-Like teams that provide a comprehensive array of services to patients who have the most acute symptoms of severe and persistent mental illness. Less intensive services have not been effective in meeting their needs. These patients are identified with deficiencies in basic daily living skills, safety issues, problems caring for their basic physical needs, and/or maintaining safe and affordable living situations. Substance abuse, incarcerations, homelessness, frequent hospitalizations and emergency room use are all problems this population frequently faces.
Assessment/Mobile Crisis is the only 24/7 psychiatric emergency response and intake team in the state. It serves both Charleston and Dorchester Counties.  If you or a loved one are in crisis, call us at 843-414-2350. Click here to learn more…
Psychiatric Urgent Care Program (PUC)
The Psychiatric Urgent Care (PUC) is a walk-in clinic at our Charleston facility for those in psychiatric crisis, open seven days a week, 8am-6 pm, with a weekend component funded by a Duke Endowment grant through Roper St. Francis Hospital. Psychiatric Urgent Care diverts people from emergency departments when clinically appropriate, treats those not traditionally treated by CDMHC, and provides assessments, referrals, psychiatric medical services, nursing services, and short-term therapy.
Fetter Clinic
We serve Fetter Clinic in Summerville and Charleston to collaborate and provide community based mental health services and follow up for patients identified by Fetter Clinic to require the services of both agencies.
Vocational Services
Vocational Services are an integral part of treatment and the IPS, or Individual Placement and Support Model, has been implemented to provide vocational opportunities to patients who are interested in working by using our connections in the community. Representatives from Vocational Rehabilitation (VR) Services are present in weekly team meetings to coordinate services. With the assistance and support of mental health staff, family members, job developers, employment specialists, competitive employment is obtained.
Mental Health Court
This jail diversion program helps address the growing number of frequently re-incarcerated offenders diagnosed with an Axis I mental illness at the county jail. They must be able to understand the terms/conditions of the program and have a pending misdemeanor or non-violent felony offense. Most participants spend at least 12 months in Mental Health Court and are required to actively participate in counseling sessions and work toward treatment goals. The philosophy of the team is that offenders are better served with an emphasis on recovery rather than incarceration- the provision of mental health services can interrupt the cycle of recidivism. It is important that these offenders receive assistance in accessing resources such as medication assistance programs, vocational services, and individual and group counseling services if they are to sustain productive community tenure.
Jail Services
The jail team is responsible for assessing mental health issues in the inmate population; assisting in stabilizing symptoms of the mentally ill by coordinating access to a psychiatrist; following up with doctors and nurses concerning medication; and coordinating psychiatric hospital admissions, when necessary. The team also helps coordinate care with mental health case managers and other outside parties as appropriate and may provide in-house education to detention center staff on subjects such as suicide risk assessment.