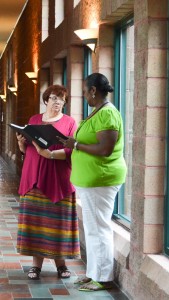 Charleston Dorchester Mental Health Center offers a vast array of case management, treatment, and community support services from a skilled team of professionals. Our teams work tirelessly to help make our patients successful in the community.
Regional Treatment/Case Management Teams
The majority of our patients in Charleston and Dorchester are served by our Regional Treatment teams. Both of our clinics have large, diverse treatment teams providing a variety of services and therapies to our patients. These teams provide assessment, crisis intervention, individual, family, and group therapy, skills building, and case management services to adults and children.
Our school based services are provided by clinicians belonging to one of these teams. Doctors and nurses are also attached to these teams to provide guidance and support the needs of our patients.
What is Targeted Case Management?
A partnership with the patient to identify and secure access for identified needed resources or services in the community. Services can be professional (e.g., medical, dental, etc.) or non-professional (e.g., food, housing, etc.).
TCM resource/services would likely address:
Physical health
Mental health (specialized treatment only not provided here)
Social Needs
Educational Needs
Vocational Needs
Our Targeted Case Managers will assess case management needs for patients, look for community resources and link patients to those resources and monitor success in getting needs met. Case management services are an adjunct service and are not therapeutic treatment services. These services are only provided to patients open for treatment purposes at our Center.
Targeted Case Management Specialized Services
Below is an overview of some of our treatment and case management services. Please call us at the following numbers if you would like to talk with someone about these support services.
Dorchester Clinic: (843) 873-5063
Charleston Clinic: (843) 414-2350
Youth In Transition
Staff provide an array of therapeutic and case management services for young people, ages 16 – 21, who have a history of serious emotional/behavioral problems. Goals of the program are for youth to complete their education, attain full/part-time employment and decrease time in psychiatric and Department of Juvenile Justice facilities.
Assertive Community Treatment (ACT-Like Services)
Charleston clinic has two ACT-Like teams that provide a comprehensive array of services to patients who have the most acute symptoms of severe and persistent mental illness. Less intensive services have not been effective in meeting their needs. These patients are identified with deficiencies in basic daily living skills, safety issues, problems caring for their basic physical needs, and/or maintaining safe and affordable living situations. Substance abuse, incarcerations, homelessness, frequent hospitalizations and emergency room use are all problems this population frequently faces.
Homeshare
This program is a service to Charleston and Dorchester Mental Health Center patients who previously resided in long-term state psychiatric hospital facilities or have not been successful in other types of housing. Homeshare is an innovative program that integrates psychiatrically disabled adults into community households that are willing to share their homes. One patient, for whom the Provider is reimbursed, lives as a member of the Provider's family. The program is staffed by case managers who offer a comprehensive array of services. We believe that the goals of recovery are best achieved when patients are located in communities where families and natural community supports are available.
Dual Diagnosis Programming
This Dorchester Clinic program is designed to provide group counseling, individual counseling and intensive case management services to patients who are dually diagnosed with substance abuse issues and mental illness. The program's goals are to decrease hospitalizations and substance use.