Charleston Dorchester Mental Health Center has an exceptional emergency services program that consist of two key components: Assessment/Mobile Crisis and the Psychiatric Urgent Care Clinic.
Assessment/Mobile Crisis
Ph:   843-414-2350, 1-800-613-8379
Fax: 843-571-7719
Assessment/Mobile Crisis is the only 24/7 psychiatric emergency response and intake team in the state. It serves both Charleston and Dorchester Counties.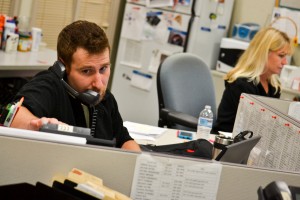 When called by law enforcement, night or day, rain or shine, a mobile crisis team member will go anywhere in the community, except emergency departments, to provide triage, assessments, and referrals. Assessment/Mobile Crisis partners with the Lowcountry Crisis Negotiators' team to assist at bridge jumping, barricade, and hostage scenes. The psychiatric expert sent to the scene can often get the person in crisis diagnosed and directed to treatment.
"The Mobile Crisis unit and the in-service training supplied by CDMHC to the sheriff's officers is a tremendous benefit to the citizens of Charleston."
– Chief Deputy Guy Vanhorn, an employee of the Charleston County Sheriff's Office for thirty years
Psychiatric Urgent Care Clinic
Ph:   843-414-2350
Fax: 843-571-7719
The Psychiatric Urgent Care (PUC) is a clinic in our Charleston facility for those in psychiatric crisis, open six days a week, 8am-6 pm, with a weekend component. Psychiatric Urgent Care diverts people from emergency departments when clinically appropriate, treats those not traditionally treated by CDMHC, and provides assessments, referrals, psychiatric medical services, nursing services, and short-term therapy.  PUC accepts walk-ins during the week and schedules appointments to see people on the weekends.  If you need assistance on the weekend we recommend you call the clinic ahead of time at 843-414-2350.
The PUC performs two distinct functions.
1. Crisis Intervention
This service is provided to those who call or come in to the PUC complaining of:
wanting to "hurt or kill myself"
worrying all the time
feeling like "you're losing it"
"my mind is playing tricks on me"
feeling like "someone is out to get me"
"always being grumpy and irritated"
not getting along with anybody anymore
can't get out of bed
always feeling sad for no reason and are in need of "same day" attention.
When you get to the Psychiatric Urgent Care Clinic, you will meet with a counselor who will have the full support of a psychiatric team that includes a psychiatrist, a nurse and other mental health professionals. If you and your team determine that you would benefit from on-going counseling support, you may be referred to the mental health center for short-term outpatient services or more intensive services as needed.
2. Short-Term Therapeutic Services
We expect that folks in this service shall remain for up to 3 months. Sessions are arranged on an as needed basis, but typically are weekly.
If you and your team determine that you are not getting what you need, you will be referred to a more appropriate service – either one within the mental health center or one outside of the center.