The Charleston Firefighter Support Team was organized in July 2007 through a collaborative effort of the City of Charleston Fire Department, the South Carolina State Firefighters' Association and the South Carolina Department of Mental Health.
All counseling services are free of charge to our firefighters and their families. The strictest code of confidentiality is enforced as described and established by Law in the State of South Carolina Privacy Practices of Protected Health Information (PHI).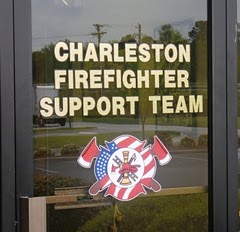 The Support Team is designed to provide Advocacy Education and Treatment through its Peer Outreach and Counseling Service Unit. As public servants, our commitment must be to the whole agency and to the citizens of our community. We uphold this commitment through diligence, honesty, personal responsibility and the highest professional standards. Team members respect the rights of others to hold values, attitudes, and opinions that differ from their own without judgment or disdain; and do not attempt to impose their own values and beliefs.
The Primary Goals of the team are to develop servivces that are easily accessible and available, ensure that services meet the needs of firefighters and their families, and identify those in most distress and respond effectively.
The Charleston Firefighter Support Team provides an array of services designed to meet the needs of personnel and families of the Charleston Fire Department.
The following services are available:
Crisis Intervention – Attending to those in need of immediate and critical support
Individual Counseling – One on one counseling to address issues identified as causing undue stress and emotional upset.
Family Counseling – Meeting with fire department personnel and their families to promote unity and strength within the family.
Couples Counseling – Addressing those issues unique to the needs of a committed relationship
Group Counseling – Using the power of peer support to tackle issues and together seek solutions
Children's Counseling – Working with children based on their developmental stage to provide a safe environment to discuss any concerns, promote confidence, and increase self-control.
Alcohol and Substance Abuse Counseling – Working with individuals seeking assistance to overcome alcohol and substance abuse problems in their lives.
Medical Assessment – Assessing the need for and monitoring medications.
Community Outreach & Social Support – Participating in activities, meetings, and events to provide support and education. We are available to provide services in the office, in schools, in the home, or in the fire stations. Phone consultations are available for additional support.
Peer Support – Response by trained CFD personnel to provide initial support and referrals of firefighters and their families.
Charleston Firefighter Support Team
843-225-3850
2090 Executive Hall Road, Suite 115
Charleston, SC 29407