Maria Teri Hazel
A Story of Hope, Healing, & Recovery

Maria Teri Hazel bounds through the hallways of the Charleston Clinic full of purpose and a deep sense of accomplishment. "It's been hard, but I'm proud of myself. I really am.", she says with a sense of vulnerability and pride that tells you just how far she's come.
These moments of satisfaction were few and far between not too long ago. For many years, Maria Teri Hazel was walking alone.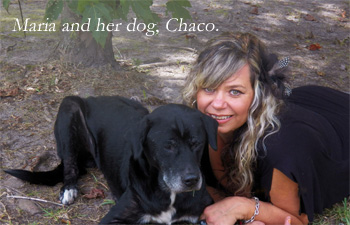 Her journey came to an all-time low three years ago when she was arrested for the possession and production of Crystal Methamphetamine in a Charleston area hotel. Maria had been struggling with drug addiction on and off for 14 years before her arrest, and had been diagnosed with Bipolar Disorder at the age of 25. Bipolar Disorder, also known as manic-depressive illness, is a brain disorder that causes unusual shifts in mood, energy, activity levels, and the ability to carry out day-to-day activities. The symptoms are severe, and if untreated, can lead to damaged relationships, drug/alcohol addiction, risky behavior, poor job performance, and even suicide. All of these factors came into play for Maria over the years, and her roller coaster life quickly shattered into a series of broken family relationships, addiction, and four months in jail.
Her spiral downward continued until a brief encounter changed things dramatically. "They saved my life. Saved my life," Maria whispers as she describes a meeting with a counselor from the Charleston Dorchester Mental Health Center (CDMHC). The center had come to offer her an opportunity to participate in Charleston County Mental Health Court. It was the first "glimmer of hope" she had experienced in years. "Mental Health came to me and said, 'Hey, we understand what you're going through. We want to help you.' It seemed like it was the first time someone understood my pain in over 20 years."
Charleston Dorchester Mental Health Court is a unique program offering treatment for people who've committed non-violent crimes and suffer from mental illness. Maria committed to the program for one full year, which meant participating in treatment groups 3x per week, counseling sessions, psychiatrist appointments, random drug screens, and weekly appearances in mental health court to discuss her progress. During the treatment process Maria spoke about her difficult past, which was greatly impacted by her Bipolar Disorder. The disease took everything from her as she would go from experiencing incredible highs to crippling lows. It led her to a life of drug abuse that left her homeless and estranged from her four children.
Today, however, is a very different story.
Maria successfully completed Mental Health Court in June 2011 (She has been clean and sober for 3 years and counting!), but chose to voluntarily continue receiving treatment from CDMHC after graduation to help her stay on her path of recovery. Her hard work and recent success did not go unnoticed as it was not long before the Judge for Mental Health Court asked her to start and lead an alumni association for graduates of the program (They are planning on holding their first meeting in November). Maria has also given several motivational talks to others who struggle with mental illness, and she is set to be formally trained as a facilitator for the National Alliance on Mental Illness. When asked about her current work and goals she said, "I want to be an advocate for people who've gotten into so much trouble, and yet, it could have been different if they had an opportunity to get treatment earlier on. It's not an excuse, but mental illness is a real disease that deserves the right kind of help. There's a stigma behind it that I want to help educate people about."
Maria has made incredible progress in a very short period of time, and has no plans to stop anytime soon. "I wake up every day grateful, and I do the very best that I can each and every day. I'm focused on one day at a time, and I'm committed to staying clean and being in treatment. Without that I couldn't do what I'm doing now."
To be seen and then to see – those two factors go hand in hand, and they are a powerful recipe for hope and renewal. Maria Teri Hazel was given an opportunity to find her path, and she's been working hard ever since to walk bravely through the highs and lows. And for that, she should indeed be very, very proud.
(Note: The Charleston Dorchester Mental Health Center received written permission from Maria Teri Hazel to write and publish this article on this website.)